About Us
Covid Update
Covid update from Rose and Wild Florist

By keeping with WorkSAFE guidelines in BC

Our requirements to keep all of us healthy, we will be implementing the following measures: regular hand washing and hand sanitizer use at the beginning, end and throughout our shifts.
Limited staff and spacing of staff in the shop to ensure physical distancing requirements are met
In-store shopping is limited to 2 individuals or one small group at a time *we have a cozy space that doesn't allow for lots of shoppers, and is available at the discretion of the staff. We will ask on health and needs of the visitors before allowing entry. With less staff we also may need to limit in-store shopping if we are extremely busy with orders to allow us to serve everyone as efficiently and professionally as we can As instore shopping requires more cleaning and personal support we do begin our day much earlier than other florists.
If and where possible, Please Please, We encourage orders to be placed and paid for over the phone, email, or online to limit contact. We will work with you and make sure you are comfortable snd happy with our service.
We offer curbside pickup, delivery, and will even take your order outside.

Unwell folks (staff and clients) are to stay home and take care. Call it in. Wr are here. We are here for you.
We value you as people and want to give safe and healthy quality service that sends flowers, not illness and not the flu. If you have any questions or concerns, please contact us.

We are safely delivering to Royal Inland hospital where we leave the flowers, with the staff at the reception, with details of patient name, room number, and where they are resting. The team at the hospital will deliver your flowers, fruit baskets, plants or gift safely to your friend or family.

The same applies when we deliver to all seniors homes in Kamloops. The staff are happy for us to deliver flowers or gifts, they will keep the item/delivery in quarantine for a period before delivery is made to the suite.
Rose & Wild
665 Tranquille Rd #6
Kamloops,BC V2B 4C5
---
Additional Information:
Our shop is open:
9:00 a.m. to 6:00 p.m., Monday through Friday
9:00 a.m. to 5:00 p.m. on Saturday.

Thanksgiving delivery on Saturday and Sunday
About Our Company.

Rose & Wild
The team at Rose And Wild wish to be the No 1 choice when it comes to receiving and sending special gifts,flower arrangements, pretty bouquets and flower baskets for the outstanding people in your life. Our aim has simply always been to be outstanding value and superior service to all of our customers, with reliability and quality, and we look forward to an opportunity to prove why we have been rated one of the Top Florists worldwide.
To prove our promise to you, we offer a 100% satisfaction guarantee on all of our products and services. If you are not completely satisfied with any product we deliver, we will offer you a replacement of equal quality and value. We strive for superior service with exceptional reliability and excellent customer service, and understand that this is what our customers expect from us.
If you call us within 48 hours of your delivery, we will honour this guarantee, immediately. As superior professionals, full-service florist, we would like to know of any concerns that you may have, so that we can improve, develop, raise standards, and improve your experience. Your opinion is important to us, so please do not hesitate to tell us if you are not satisfied with what we do
Reliable flower delivery. Kamloops, North Shore best florist delivery service. We deliver to all areas of the North Shore, Tobiano, Savonna and Sun Rivers.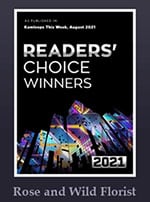 Delivery Policy
The experts at Rose & Wild Florist ensures that every flower arrangement or gift ordered with us is beautifully made and hand-delivered to the recipient from our local flower shop. We make every effort to personally take care of your order and ensure that it is delivered in a professional manner and exactly to your specifications. To that end, we ask that you make certain that any special requests or unique delivery information, is entered in the Special Instructions field during checkout. We work hard to fulfil any wishes made. If you require further detailed info or advice please call us we would love to put your mind at rest.
Delivery Areas
Our shop is located in the Interior Health region of BC, we are able to personally deliver to all areas and Main towns including Kamloops, Vernon, Salmon Arm, Logan Lake, Chase, Kelowna, Tobiano, Cache Creek, Sun Rivers, Kamloops North Shore, Sun Peaks and Dallas
With our network of experts in florists we can also arrange delivery of all flowers, baskets of fruits, plants and gifts to all areas of Vancouver, Burnaby, Port Moody, Coquitlam, Port Coquitlam, North Vancouver, West Vancouver, Richmond, Delta, Ladner, Tsawwassen, Surrey, White Rock, Langley, Aldergrove, Abbotsford, Chilliwack, Pitt Meadows and Maple Ridge.
We are also able to guarantee and arrange delivery to most areas in BC, throughout Canada, all of USA and internationally through our ever growing network of FTD florists. We regularly send orders for our customers to the United Kingdom, Europe, South America and Asia
Same Day Delivery a Specialty till 4pm
At Rose & Wild Florist our beautiful gifts and arrangements can be delivered on the same day if you order by 4pm. Same day delivery? Of Course!! Any orders that are received after this time will be delivered on the following day. Please bear in mind that fruit, gourmet baskets, cakes or special floral requests will often require at least 24 hours' notice before delivery.
Rose & Wild Florist Concierge service
In extraordinary times we are looking to change, evolve and grow to become different and unique. We regularly help customers with new added gifts, ideas of creativity, and often just what the heart wants!
Some new recent concierge services we have added include personalized birthday cakes, Cheesecake Factory cheesecake, scented candles and champagne and Wine deliveries with flower bouquets. Please ask us for ideas on how to make the occasion unique and personal for the recipient. At Rose & Wild Florist it's all a service.
Sunday Deliveries and Statutory Holidays
We are always open and delivering locally on Sundays. We will close On Christmas Day, December 25th. Most florists in Canada are not as flexible, and if you require an order going for another town, we will endeavour to assist to the fullest extent
Specific Delivery Time Requests
Despite the number of deliveries we take each day, we are able to accept specific delivery time requests. We are able to deliver within an hour time frame window , or morning, or afternoon or by a certain time. Typically, we fulfill requests such as deliver before noon, or deliver between 1 and 3pm. All of our deliveries are created during the same day of delivery. For a specific delivery time request please make sure that it is included within the Special Instructions field during checkout. We will endeavour to honour your requests. If you have any questions about any delivery or timed delivery, please contact us.
During heavy peak season times, we would still accommodate your requests if you specify a morning or afternoon delivery. We request that you place your order at least 24 hours in advance before the actual date during these holiday or special occasion times. This will better allow the team to organize the delivery schedule to meet your needs and serve you better.
Delivery to residents Apartments or Condo Living
Usually we require prior contact to gain access to make delivery to these secure living buildings. Therefore it is essential that we have the correct contact phone number to make these deliveries and without causing unnecessary inconvenience. There are often similar buildings with a concierge, or reception area, or where flowers and gifts can be left with a neighbour.
Delivery to Hospitals
The Rose & Wild Florist drivers deliver to all of the local hospitals, nursing homes and care facilities. When placing the order, please be sure to include relevant information you have that will assist us, including their name, the hospital name, phone number and the recipient's resident number. In general flowers are not accepted in hospitals for patients in ICU and these cases relatives or family members usually accept on their behalf
All private hospitals and nursing homes allow flower deliveries but not in person. Therefore we leave the delivery/flowers with the reception area, or the first point of contact
Recipient Not Home
When our delivery drivers arrive at a location, it can happen that the recipient is not available to receive the delivery. If this may happen, there are a number of things we may do and will often take the following actions:
Leave the arrangement in a covered and secured area near the door, as would be found on a porch, in a garage, or inside another accessible entrance. Call the recipient and let them know or send a text.
Leave the gift with a neighbour, as well as leave a note upon the recipient's door, or call the recipient.
Order Substitutions
Unfortunately, there may be times in current difficulties when flowers or vases are not available for our use at the time they were ordered. If this should happen, we will try and notify you. We will then make every effort to find a suitable replacement that will meet the same quality and value as the original, and one that maintains the standards set for style, theme and color. We will substitute items of equal or higher value
International Orders
The beautiful floral products and bouquets displayed online are only available for delivery in Canada or the United States. However Rose & Wild Florist can organize ordering, delivering, quality and special gifts of wrapped bouquets, plant baskets, fruit baskets, chocolate and gourmet baskets, floral vases and pretty plants to other countries through our affiliates of worldwide network of affiliated florists. To enquire if where we can reach on your behalf please contact us or order online
It is often better to contact us directly to organize an international delivery or To a European Country
Specialty Services
Funeral and Sympathy Flowers
Our florists are a family and know what is involved when listening to your needs. They will never allow themselves to drift from the importance of listening to what you need and exactly what is requested
We always offer a discount for multiple family orders and would like to be recognized as the premier service for funeral and sympathy flowers at reasonable prices
We deliver to all funeral homes daily. Below is a list of the funeral homes that we deliver to in Kamloops but we will reach all areas of Canada and USA on your behalf
We always call the funeral home, or service provider two days before to make accurate arrangement for a deliver as requested by you. Kamloops funeral homes we work with are:
Kamloops Funeral Home
Schoening Cremation Centre
Schoening Funeral Service Ltd
Alternative Funeral and Cremation Services
First Memorial Funeral Services


Wedding
Are you looking for a wedding florist in BC?
Look no further than Rose and Wild. Our beautiful flower shop is in BC and we have a long tradition of creating both stunning and unique Wedding Bouquets. From simple civil affairs to large scale extravagant events, we honestly enjoy being part of all weddings
All of our florists here at Rose and Wild are trained expert florists with many years of experience in the industry. Our wedding designs are truly elegant and unique. We provide the highest level of service to all our clients when it comes to planning, creating, and executing an exceptional and beautiful event, which is solely unique to the bride and groom.
Contact us today to discuss your own ideas or if you are unsure of what it is you need, let us help you decide on a design to suit your personal style and budget.
Free consultation
Consultations with our expert florists are free, so why not call us on (250) 376-5115 now and arrange an appointment with one of our dedicated team. We'll be happy to see you and would be delighted to assist you in any way we can.
When coming for your consultation we recommend bringing with you samples of the fabrics or even images and if possible images from the wedding venue. Additionally If you have seen bride bouquet images and photos you like, why not bring them too